UAE: Construction of SeaWorld Abu Dhabi Well in Progress – Completion Still Scheduled for 2022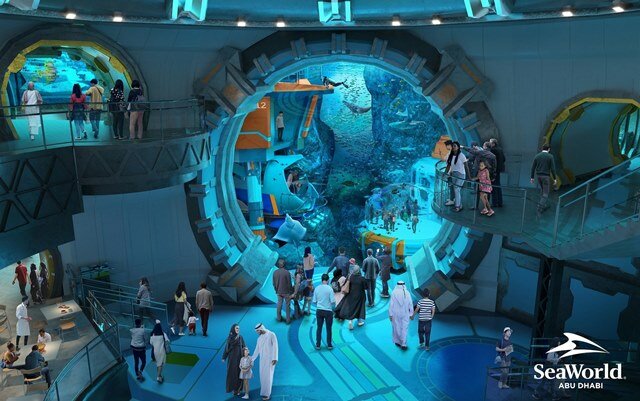 The SeaWorld®-branded marine theme park announced five years ago for the emirate of Abu Dhabi (cf. EAP news of 13 Dec 2016) continues to take shape: While in autumn 2020, despite the global health crisis, construction progress of 40 percent since the foundation stone was laid could be reported (cf. EAP news of 12 Oct 2020), Miral Asset Management now announces a completion of the construction process of 64 percent. That means that completion of the entire destination (realized in cooperation with SeaWorld Entertainment) is still on time for 2022 as originally scheduled. Recent milestones of the project include the completion of the first steel structure and the soon to be finished enclosure of the Marine Life Park. In addition, the building's façade and more than 70 percent of the park's acrylic panels are currently being installed.
SeaWorld Abu Dhabi, when completed, will house the world's largest and most expansive marine aquarium to date, with 25 million litres of water and around 68,000 marine animals. The themed aquarium will receive the name of "Endless Ocean". Similarly, there will be an associated scientific facility, the Yas SeaWorld® Research and Rescue Centre, which will be the first of its kind in the UAE and will focus on the domestic ecosystems of the Persian Gulf. Visitors will be able to access the research centre with pre-registration.
Mohamed Abdalla Al Zaabi, CEO of Miral, describes the visitor experience to be provided by the "Endless Ocean" themed aquarium in more detail: "[…] The 'Endless Ocean' themed aquarium encapsulates the expanse and scale of the marine display for guests and is one element featured within a unified "One Ocean" experience, interlinking six distinct realms throughout the marine-life park. The 'One Ocean' narrative will augment the park's ability to simulate the natural habitats of different species, living harmoniously as they would in the wild. Guests will be encouraged to explore these natural underwater environments via immersive storytelling techniques and the latest cutting-edge technologies, further deepening an appreciation and understanding of ocean life." (eap)