"Walibi Winter": Walibi Belgium Opens in Winter Season for the First Time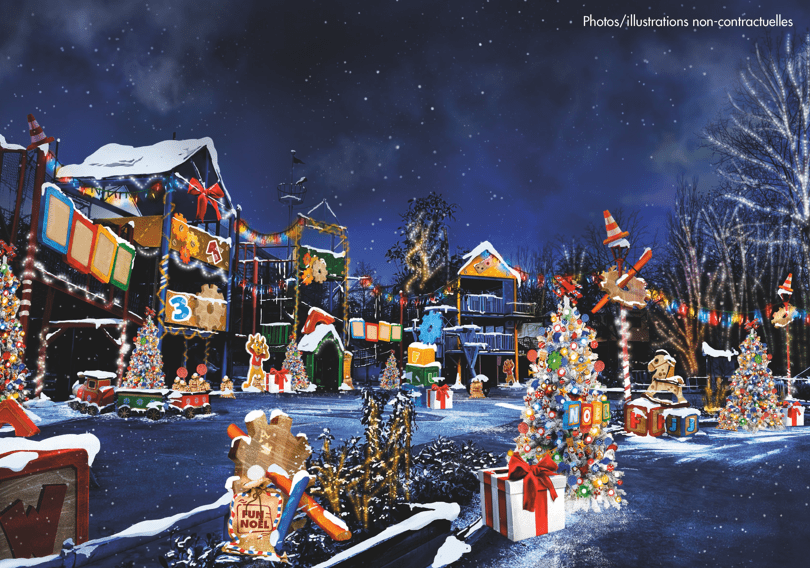 © Walibi Belgium
(eap) The Walibi Belgium amusement park, which opened in 1975, will also open in the winter season for the first time in its history this year: from 16 December, visitors can experience the park, located in Wavre, in a Christmas atmosphere. Visitors can look forward to four themed areas with activities and a Christmas market to end the year in a special atmosphere.
In addition to the total of 38 children's, family and thrill rides for which the park is well-known, there is, for example, the "Glowing Greetings" area to discover on site, which is located at the entrance to the park and aims to delight with a variety of lights, sound effects, nutcrackers and an eight-metre-high Christmas tree. As guests make their way through the park, they reach the Alpine Village area: a mountain décor adds to the festive atmosphere of the Christmas market with 18 huts where visitors can sample raclette, tartiflette and other winter specialities and purchase themed items.
This second themed area is followed by "Frozen Land", an environment inspired by the far north with a 750 square metre ice rink and a show that takes place three times a day, a glacier bar and a walkway through an enchanted forest. On the other side of the park, visitors will be able to discover the fourth area: The "Polar Playground" will be a festive playground where young visitors will also meet Santa Claus and his elves.
"Opening the park in winter was only an option for us if we could go big and surprise our audience once again. I am sure that the hard work of our teams, who have transformed the park into an enchanting, glittering world, will delight families and groups of friends looking for a warm welcome during the festive season," enthuses Jean-Christophe Parent, Managing Director of Walibi Belgium. Walibi's winter season starts on the weekend of 16 and 17 December. From 23 December 2023 to 7 January 2024, the park will be open daily, with the exception of 25 December and 1 January. ■