China: Construction Works Start on World's Largest LEGOLAND Resort in Shenzhen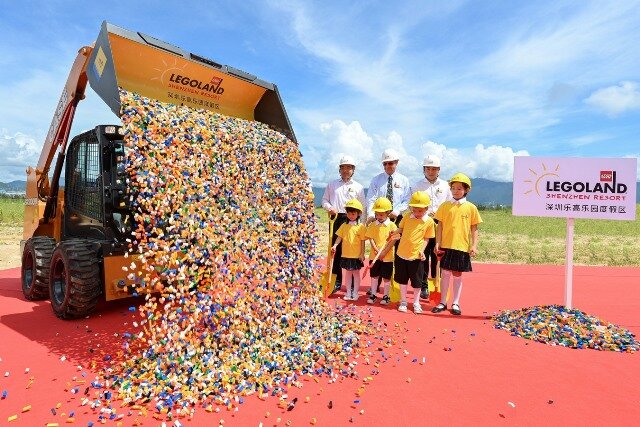 More than 20,000 building bricks– colourful and in LEGO® miniature format – were symbolically unloaded today on the site of the future LEGOLAND Resort in Shenzhen (Guangdong Province, China) to mark the start of construction. Over the next three years, the world's largest LEGOLAND resort to date will take shape on an area of around 580,000 square metres, as proudly announced by the British operating group Merlin Entertainments. More than one billion US dollars (just under one billion euros) are to be invested in the construction of the theme park resort with three hotels and an adjoining water park.
"Construction of the world's largest LEGOLAND® Resort in Shenzhen marks a significant milestone for Merlin in China, reflecting the scale of opportunity in the country and our commitment to developing our business in China. […] We have already had great success with our immersive LEGOLAND® attractions around the world and look forward to working with our partners to make the Shenzhen resort a reality," commented Nick Varney, CEO of Merlin Entertainments, during today's launch ceremony, which was also attended by representatives of the LEGO Group and the local partner company of Hazens Holdings.
Siegfried Boerst, General Manager of the LEGOLAND Shenzhen Resort, gave an outlook to the future park experience: "While maintaining the authentic LEGOLAND experience, there will be innovative designs, new themed areas, rides and immersive shows launched for the China market. The LEGOLAND Shenzhen Resort will integrate the history, culture and ecology of Shenzhen and China. The park will also be a smart park, celebrating technological innovation, imagination and creativity in Shenzhen. The Resort will include a combination of indoor and outdoor play areas to account for the climate in Shenzhen. […] In echoing local characteristics, we have also developed a live show exclusively for Chinese families, and the Resort will feature the world's largest LEGOLAND® theatre with more than 1,000 seats. […]," said Boerst.
Merlin Entertainments currently operates 13 Midway attractions in China, including four LEGOLAND® Discovery Centres, five Madame Tussauds waxworks cabinets, SEA LIFE-branded visitor aquariums, a The Dungeon scary attraction and a Peppa Pig World of Play in Shanghai as well as a Little BIG City facility in Beijing. The LEGOLAND Resort in Shenzhen will be the first of its kind in China. There are currently nine operating LEGOLAND Resorts worldwide, with the newest resort recently opening in Goshen, New York (see EAP 4/2021). (eap)