Suppliers Receive Golden Crown Awards 2021 for Projects in China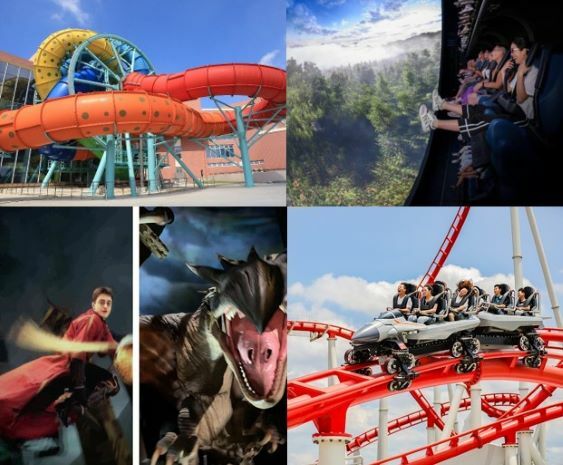 Recently, the "Golden Crown Awards 2021" were presented to several manufacturing companies and suppliers in the international leisure industry in various categories. Asia Attractions Magazine, who presents the awards, aims to regularly recognise outstanding and successful projects and installations in the Chinese theme park landscape.
The awardees in the "Outstanding Roller Coasters Supplier (International)" category include the Dutch roller coaster manufacturer Vekoma Rides for the realisation of the newly-designed Top Gun Launch Coaster "Fighter Jet" in the Fantawild parks "Oriental Heritage" in Ningbo and "Oriental Glorious" in Ganzhou. This year and in 2023, further installations of this ride type will follow in the Fantawild parks in Huai'an and Jining. Liechtenstein-based manufacturer Intamin Amusement Rides, whose most recently completed projects in China include the commissioning of the double launch coaster "All Speeds" at Sunac Land Chengdu, also received a Golden Crown Award in this category.
The German company Simtec Systems was honoured with an award in two categories: for the installation of a "HEXaFLITE®72" Flying Theatre at Chongqing Sunac Land in the category of "Outstanding Motion/Flying Theatre Supplier (International)" as well as in the category of "Outstanding Family Ride Supplier (International)" for three "FUNRIDE21" open cabin simulators in the Super Wings themed area at Happy Valley Park Chongqing (OCT). In the "Outstanding Motion/Flying Theater Supplier (International)" category, the Canadian supplier Triotech also received a Golden Crown Award for its XD Theater at OCT Happy Valley Tianjin.
In the water attractions category "Outstanding Supplier for Waterslides (International)" Germany's wiegand.waterrides received a Golden Crown Award – in spring 2021 a Slide Wheel of the company opened at the Linkspring Fun World water park in Nantong. In addition, wiegand supplied a themed water playground made of stainless steel to the park. The Turkish manufacturer Polin Waterparks also received an award in this category for its four new slides at Visionland Dinosaur Waterland in Huangshi.
As a Chinese company, Beijing-based AV specialist Wincomn received two awards in the categories of "Outstanding Lighting & Water Curtain" and "Outstanding Performing Arts Supplier", among others for the "Harry Potter: Taboo Tour" at Universal Studios Beijing. (eap)