China: "Light of Revenge" Triple Launch Coaster at Happy Valley Nanjing Takes Riders on a Space Odyssey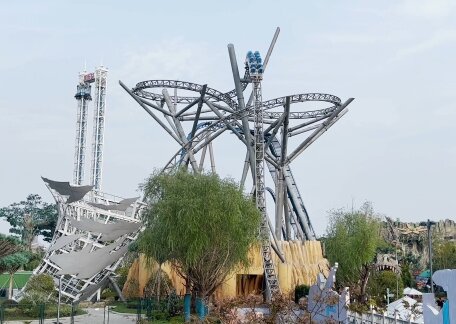 The Happy Valley amusement park in Nanjing (Jiangsu Province), China, which is part of the OCT Group park portfolio, recently opened its latest rollercoaster attraction "Light of Revenge": The LSM Triple Launch Coaster (supplied by Intamin) offers visitors a fast-paced, action-packed ride themed around an "odyssey through space".
The layout of the ride is similar to that of "Cheetah Hunt", which has been in operation at Busch Gardens Tampa since 2011, but features some updated and additional elements. They include near miss effects in the track layout so that passengers experience the speed of the triple launch coaster even more intensively. Also, numerous differently colored LED lights are integrated into the chassis, which additionally set the stage for the new attraction in the dark.
The highest point of the approx. 1,300-meter-long track is at 40 meters, where the train runs along a horizontal figure eight (just like on the "sister installation" in Tampa). This tower element is an eye-catcher for park guests that is already visible from a distance. The four roller coaster trains each have 16 ergonomically shaped seats with over-the-shoulder-lap-bar restraints so that passengers can enjoy an all-round safe speed experience. (eap)