Discover the Six Flags Novelties 2023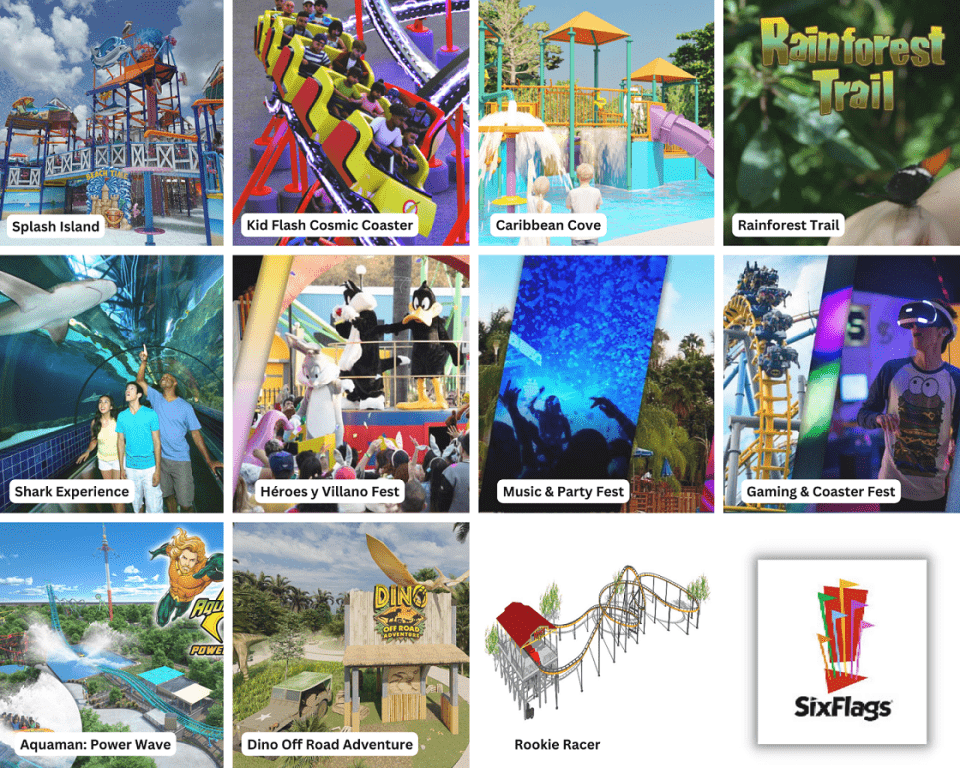 © Six Flags
US-based Six Flags Entertainment Corporation recently unveiled their attraction highlights for the 2023 season. Six Flags President & CEO Selim Bassoul on the announced lineup: "These new attractions are an exciting opportunity to ramp up the joy of our parks to a whole new level. We can't wait to share these fun and thrilling experiences with our guests, giving them reasons to visit us multiple times per year. We look forward to welcoming everyone to explore our parks, discover something fresh and exciting, and create new memories with their families!"
Six Flags Great Adventure / Hurricane Harbor (Jackson, New Jersey): "Splash Island" will be an all-new water play area for young guests at the associated water park with a total of 14 slides for young guests, including a tree house water play structure with more than 50 playful elements (including a giant water dump bucket). In addition, there will be new rentable cabanas, more shaded areas and a redesigned outdoor dining area.
Six Flags Fiesta Texas (San Antonio, Texas) & Six Flags Over Georgia (Atlanta, Georgia): Both parks will receive a "KID FLASH™ Cosmic Coaster", the world's first single-rail racing coaster, which is Skyline Attractions' P'Sghetti Bowl single-rail track model. To allow young passengers to duel in the race, the attraction consists of two parallel tracks that intersect several times along their course. Six Flags Fiesta Texas will also see the opening of a new eSports arena under the name "ESIX Gaming", covering more than 400 square meters. The Six Flags Hurricane Harbor San Antonio water park, which is part of Six Flags Fiesta Texas, will present eleven new water slides and raft rides to its younger guests.
At Six Flags White Water (Atlanta, Georgia), a new interactive AquaPlay water play structure in a shallow water pool, "Caribbean Cove", will be opened this year, offering a total of four mini water slides and more than 25 water play elements for its guests.
At Six Flags Discovery Kingdom (San Francisco/Sacramento, California), new animal experiences await visitors this year. Via the new "Rainforest Trail", guests can immerse themselves in a tropical paradise where more than 500 free-flying butterflies, colorful fish, a sloth and many other exotic animals can be observed. Moreover, the park's "Shark Experience" has been revamped and equipped with new, state-of-the-art AV technology. There, guests can walk through an underwater tunnel while admiring shark species, exotic fish and stingrays.
Six Flags Mexico & Hurricane Harbor Oaxtepec (Mexico City, Mexico): Several events will generate excitement among visitors at the group's two Mexican parks this year – with the "Héroes y Villanos Fest", the "Music & Party Fest" and the "Gaming & Coaster Fest" offering something for everyone. As part of the newly introduced "Fun Walks", guests will also have the opportunity to enjoy the parks' F&B offerings and attractions even after the park closing time.
Six Flags Over Texas (Arlington, Texas): The long-awaited opening of the "AQUAMAN™: Power Wave" water coaster (a Power Splash model from Mack Rides), which will be the first of its kind in North America, is now taking place here this year (on 11 March). Passengers seated in a boat are transported forwards and backwards over a half-pipe track, with the boat reaching a top speed of around 100 km/h.
Six Flags New England (Agawam, Massachusetts) presents "Dino Off Road Adventure", a new dinosaur adventure where families drive past life-size dinosaur animatronics, some with sound, in all-terrain vehicles.
Six Flags St. Louis (Eureka, Missouri): A new family coaster awaits visitors at this Six Flags park in the Midwest of the USA: the "Rookie Racer". This is a junior coaster from the Dutch manufacturer Vekoma, which comes in a Formular 1 design in this project. The train reaches a maximum speed of 43.5 km/h on the approx. 257-meter-long track.