Germany: Rulantica Announces Twist'n'Splash "Heligvända" for Summer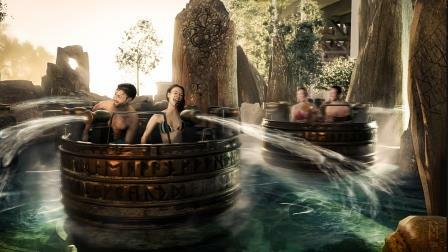 Shortly before the start of the Europa-Park season (19 march), its associated Rulantica water world also announces some novelties for spring and summer this year. With "Heligvända", the first installation in a water park of a "Twist'n'Splash" spin ride from Mack Rides will be opened this summer on the outdoor area of Rulantica (see picture). In the circular ride attraction, which unlike previous installations is used in swimwear, guests will be immersed in a mystical theming in gondolas decorated with runes and can use water cannons to cool down other guests.
The water playground "Snorri Strand" will be extended by "Snorri's Rutscheplads" and "Snorri's Spelaborg" from May. In the new area, located behind Snorri Strand, younger guests can chose between two gently curved children's slides and a mini racing slide (all three of them supplied by Aquarena), all leading down from a hill. Snorri's Spelaborg (from Ziegler Freizeitanlagen) invites explorers to an interactive play area. The outdoor gastronomic offer near Snorri Strand is extended from May to September with "Snorri's Piknikbud", which offers various snacks for guests.
"Snekkjas Vinterhage" will also add a raised terrace with 100 seats to the indoor gastronomic offer. The area, which is covered in winter, will be opened in summer and offers a shady spot for visitors.
Starting in the spring, the outdoor area will also offer even more space for relaxation and action. Via a wooden walkway, visitors can reach the Nordic sandy beach "Dynstrønd", which offers 1,400 square meters of sunbathing facilities – including beach chairs and hanging chairs – as well as a playground and a beach volleyball court from May to September. (eap)