Schwaben Park: Season Start with New "Hubertus" Attraction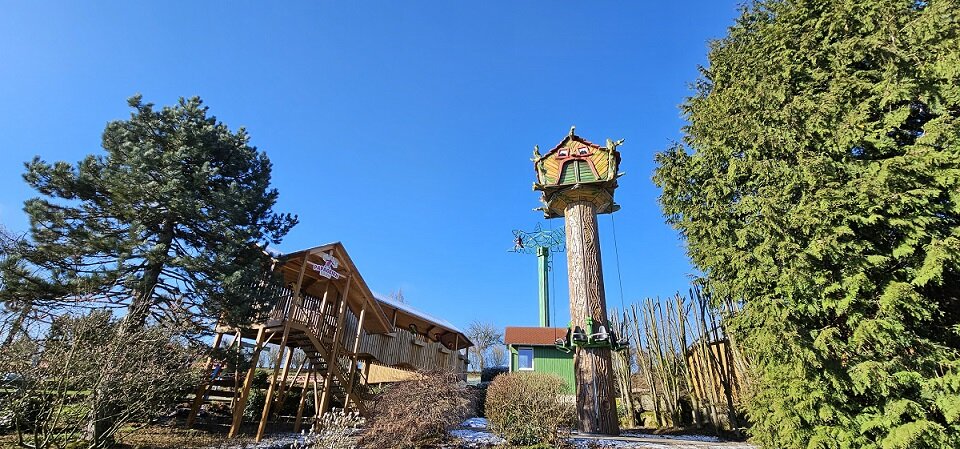 Schwaben Park in Kaisersbach, Germany also starts this year's season on 1 April. In addition to the familiar attractions, visitors can look forward to the park novelty "Hubertus". Where the 25-year-old circle carousel used to be placed, a lifting rope tower with four two-seaters from manufacturer Sunkid Heege has now found a home. Visitors can pull themselves up to a height of nine meters and enjoy a 360-degree panoramic view of the rear part of the Schwaben Park.
There will no longer be the petrol-powered "Bumper Boats" at the park this year, which are not profitable enough for Schwaben Park due to rising petrol prices. Until a new attraction is found for this area, remote-control boats will grace the existing water basin. In addition, Schwaben Park will open a new indoor attraction called "Hans Dampf" in the summer, which will be built next to the roller coaster "Hummel Brummel". Read more about the new train ride adventure soon in EAP.
In addition to attraction renovations, Schwaben Park is also investing in a self-sufficient power supply. This year, for example, the park should be able to cover 50 per cent of its own electricity needs with solar modules – the aim is to cover it completely by 2024/25. (eap)