Sweden: Liseberg Announces New "Luna Park" Theme Area to Kick-off Centennial Celebrations Already in 2022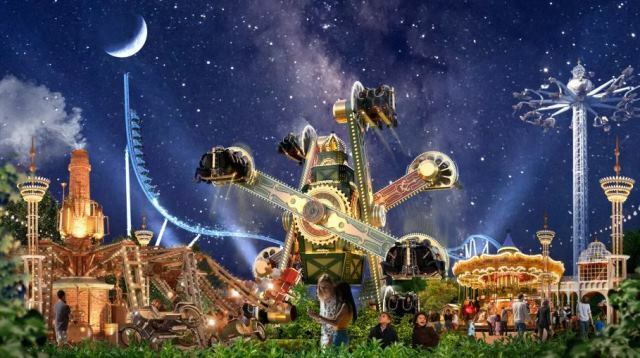 © Image: Quarry Fold Studio/Liseberg
Soon, Sweden's beloved Liseberg amusement park will turn 100 years old – 2023 is the year of the grand anniversary! The celebrations for this milestone are already to start with the next season, namely with the opening of a new themed area on the Liseberg hill – "Luna Park" will be the name of the new area and will pay tribute to the origins of the park in 1923. Visitors can look forward to a total of three family attractions: "Tempus" (a Zamperla NebulaZ) and "Turbo" (a Sidecar XL by Technical Park) will open directly with the start of the season on April 23rd next year. In the actual anniversary year of 2023, "Luna", a roller coaster from the Dutch manufacturer Vekoma (type: Family Boomerang), will be added and provide versatile family ride fun!
"We are creating a completely new area, much like we did when we built 'The Rabbit Land' in 2013. This time we are building an area for the whole family with several new attractions. The area is a tribute to the history of amusement parks and Liseberg – and a celebration worthy of a 100-year anniversary," comments Andreas Andersen, CEO of Liseberg. David Schofield, Creative Director, adds, "Luna Park will be like its own little universe inside the amusement park, especially in the evening with all the lights. A beautiful and immersive environment with lots of lighting, elegant architecture, and the air of innovation."
Liseberg is investing around ten million euros in the new theme area. Other major novelties that were already announced and will accompany the park's centenary are the Grand Curiosa Hotel (scheduled to open in 2023) and the Oceana Water World, which is scheduled to open its doors as Liseberg's second gate in 2024.
Beyond all this, Liseberg is pleased about a recently received "ISO 20121" certification for its systematic sustainability approach and its implementation in strategies for a long-term sustainable park operation. More and more leisure and amusement venues are focusing on sustainability and optimizing their operations. For example, France's Futuroscope has also been awarded the "ISO 50 001" certificate for systematic energy management in 2019, while Spain's PortAventura Resort is certified for compliance with various standards and regularly presents a "Corporate Social Responsibility" (in short: CSR) report. (eap)