TRON Lightcycle / Run Celebrates Opening at Walt Disney World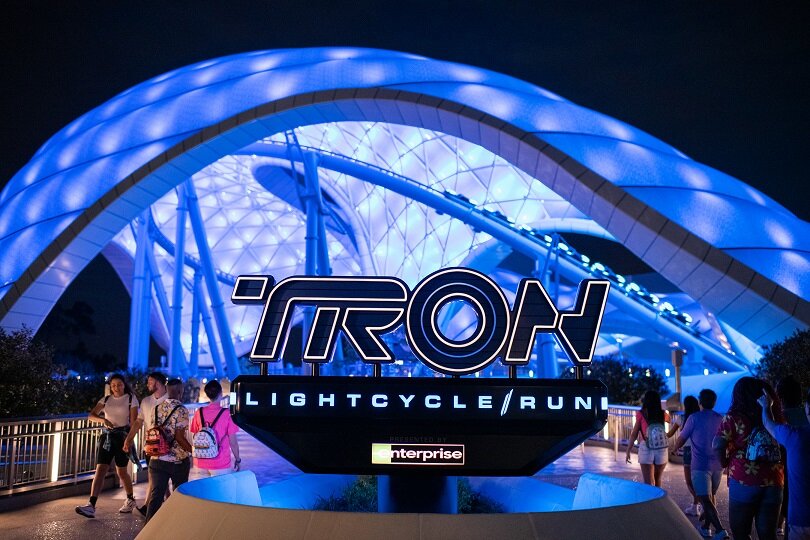 Time has come today: the new roller coaster "TRON Lightcycle / Run" opens at Disney's Magic Kingdom park at Walt Disney World in Orlando. After the first model of the coaster type was launched in 2016 with the opening of the Disney Resort Shanghai and has been enjoying great popularity among guests since then, visitors to the American park can now also experience the Vekoma coaster. Based on the Disney film "TRON:Legacy", the ride and its station have been designed in a futuristic/digital style. The almost 1,000-meter-long track runs under a canopy that covers an area of more than 4,600 square meters, is 32 meters high and includes 1,200 built-in lights.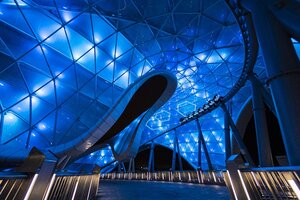 Together with its sister installation in Shanghai, the family roller coaster is the fastest coaster at a Disney park at the moment. 3,800 steel parts, together weighing almost 1,900 tons, were used in the construction of the ride. After passing through the imposingly designed entrance area, passengers take their seats in trains that have been designed as futuristic motorbikes. These are equipped with sound and light effects as well as a special safety system that allows guests to ride with their upper body leaning forward.
Following the "New Fantasyland" in December 2012, TRON is the largest expansion of the park in terms of ground space. In addition to the roller coaster, guests will find matching TRON merchandise as well as a kiosk called "Energy Bites", which sells creative international snacks and drinks inspired by the offerings at Disneyland Shanghai. The moody music score for the attraction was written by composer Joseph Trapanese. (eap)