UK: UK's First "Gigantosaurus Land" at ROARR! Announced for 2024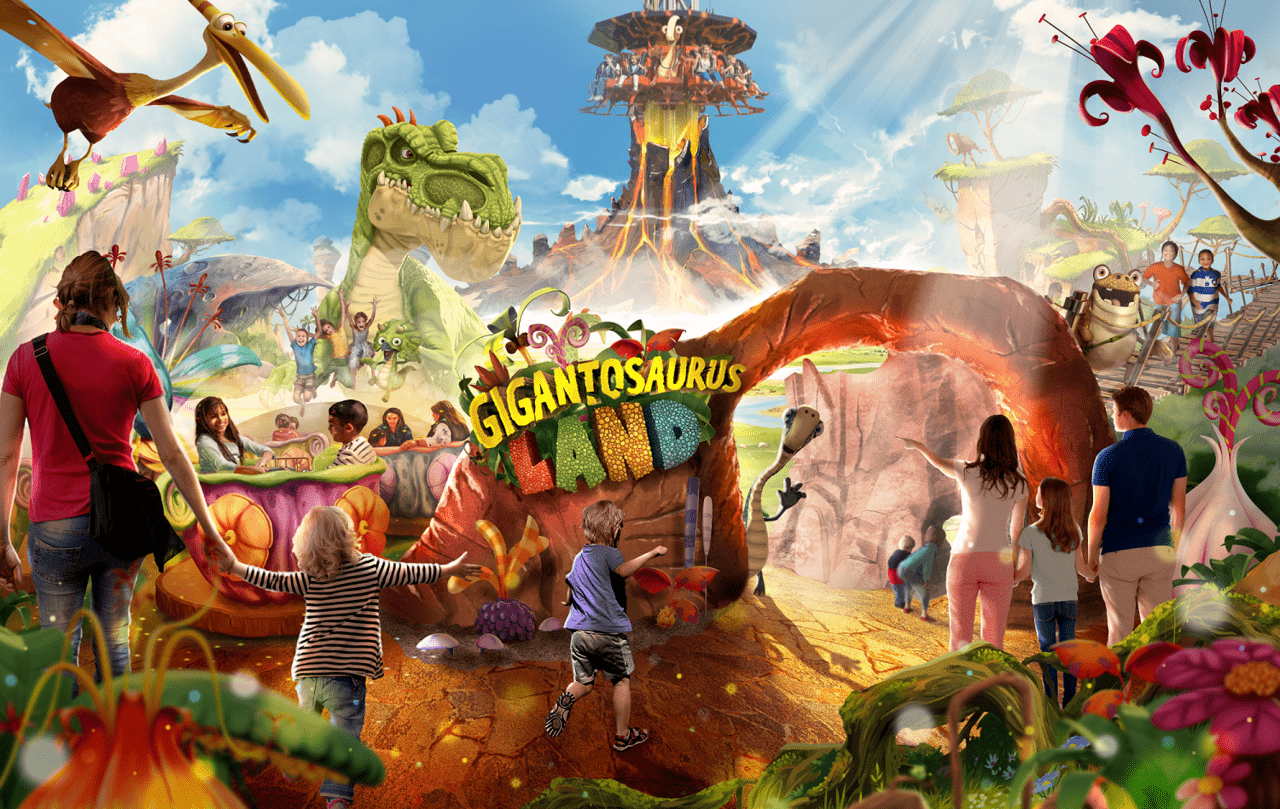 The British ROARR! Dinosaur Adventure Park in Norfolk is adding an interactive play area to its offering in 2024 in the form of "Gigantosaurus Land". The new area, which covers four (around 1.6 hectares) acres and is located within the existing 85-acre (34-hectare) park area, represents the biggest development in the park's history. The theming is based on the internationally acclaimed animated children's series Gigantosaurus, which airs worldwide on TV as well as streaming platforms such as Disney+ and Netflix and is based on a book by Jonny Duddle. Gigantosaurus Land represents a new partnership between ROARR! and series-producing Cyber Group Studios.
Plans for the new themed area are scheduled in three phases. Work is due to begin in January 2023 with the first phase, allowing guests to experience Gigantosaurus Land for the first time in 2024. Visitors will enter the area through an entranceway inspired by the Cretaceous period, before discovering giant dinosaur imprints along the walkways. The first phase of development will include a volcano-themed drop ride, as well as spinning flower teacups, water plays, a jumping pillow and a towering wooden play and climbing structure. The themed area will also include various interactive concepts for families, featuring popular characters from the series. For younger children, a play area will be created where children can, among other things, enjoy a slide made of Gigantosaurus' scales. In addition to dino-themed F&B offerings, a Gigantosaurus' Dino Store will also be available so families can take home memories of the prehistoric journey.
Inspired by the colorful designs of the series and the stunning savannah landscape in front of the fiery volcano, the new area will be surrounded by a vibrant landscape of grasland, trees and plants. For the planning of the project, the company collaborated with Katapult and Adrian James Acoustics, among others.
"We're hugely proud of the changes we have made to ROARR! over the years […], but the collaboration with Cyber Group Studios is going to elevate ROARR! even further – providing our guests from around the UK with so much to discover and enjoy during their family day out," explains park director Adam Goymour.
Future phases of development will see additional Gigantosaurus concepts incorporated into the park in the coming years. (eap)