USA: Cedar Point with New Immersive "Snake River Expedition" Boat Ride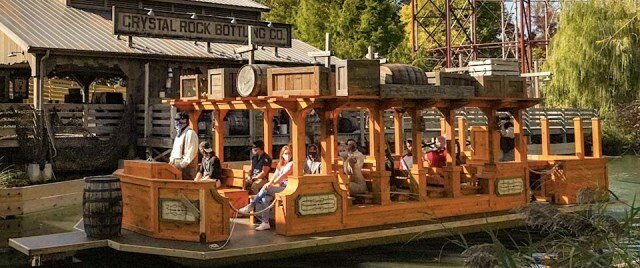 The Cedar Point amusement park in Sandusky, Ohio, operated by the Cedar Fair Group, recently opened its new "Snake River Expedition" attraction – a slow, immersive boat ride with an elaborate scenic design and live action.
Guests first pass through a preshow area to immerse themselves in the story of the "Snake River" and take on the mission of protecting valuable gold bars from thieving crooks. The boat is already waiting for them at the jetty to take the passengers to Seville Island and bring the gold to safety. During their journey on the water, they pass lonely forest huts, beaver lodges and other animals – but beware of dangerous snakes! Bandits also try to attack the ship and get their hands on the gold that is in the guests' care. But the adventure is safely survived, and in the end the guests sail back into the safe harbor.
The concept for the new attraction was developed by Weber Group, based in Sellersburg (Indiana), which was also responsible for the production and installation of the animatronics, the water effects and the decorative elements. (eap)