USA: Silver Dollar City Announces New Water Raft Ride feat. 15-Meter Drop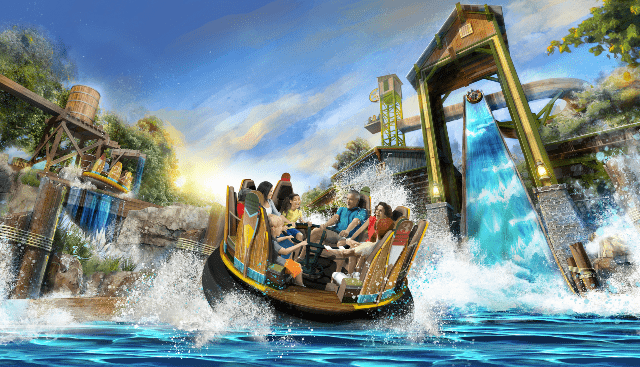 Giving itself a "birthday present" for its 60th anniversary next year, Branson/Missouri-based Silver Dollar City theme park just announced to build a new major attraction, set to provide splashing ride fun as of summer 2019. The novelty will be a new water raft ride named "Mystic River Falls", which will be the anchor attraction of the emerging "Rivertown" theme area.
The water ride, the theme of which will refer to the Marvel Cave natural landmark located west of Branson, will feature a 25 meter (82 foot) vertical high lift. During the ascent, the boats will rotate before sliding into the almost 640 meter (2,100 feet) long whitewater channel. During a five-minute journey, guests rush along the route through tidal waves, hairpin turns and a hidden mine shaft.
As highlight of the attraction, the experience culminates in a 15-meter-high waterfall descent – the highest drop of this ride type in the western hemisphere, according to the park. 18 boats with a capacity of eight passengers each will sail on the attraction, which will be implemented in cooperation with Ride Engineers Switzerland (RES) and Barr Engineering for an investment volume of 23 million USD (approx. 20 million EUR). (eap)