Official Presentation of the Buzz Price Award to Roland Mack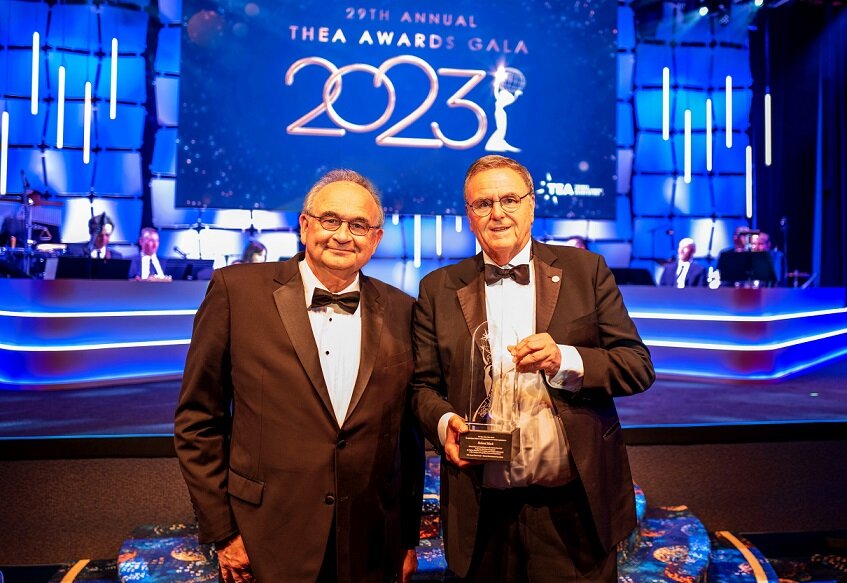 This past Saturday, the 29th Thea Awards were officially presented to the awardees in a festive ambience at the Disneyland Resort (Anaheim, California) during the "Thea Awards Gala" organized by the Themed Entertainment Association (TEA), following the announcement of the winners in November last year. One of the special honors is the "Buzz Price Award", which recognizes outstanding creative achievements in the global leisure and experience industry.
This highly recognized award has now been presented for the first time to a park owner, namely to Europa-Park founder and Managing Partner Roland Mack. During the festive gala, the well-known German entrepreneur received the Buzz Price Award personally in Anaheim. "I am very honored to receive this prestigious international award. Design, creation and emotion, together with quality and innovation, are key to the success of a theme park. My experience in almost 50 years of Europa-Park: The best designers are our guests. We just have to listen to them." Bob Rogers, Chairman of the Thea Award Lifetime Committee, highlighted, "This is the first time a Lifetime Thea Award has been presented to a park owner or operator. This has not happened in the past because the award is given exclusively for creative excellence. The jury is made up of the international dreamers, storytellers, artists and technicians who invent and design the experiences that captivate visitors in theme parks and other attractions. They chose Roland Mack because this international creative community sees him not as an owner or operator, but as one of their own. No other owner or operator has ever been honored in this way before. This award recognizes Roland Mack's lifetime of outstanding creative and technical innovation."
The first milestone of his life's work to date was the co-founding of the Europa-Park in Rust, which Roland Mack developed together with his father Franz (†), his wife Marianne and brother Jürgen from 1975 onwards into what is now Germany's largest amusement park and one of the world's most popular theme park resorts [also read the interview conducted by our editor-in-chief with Franz Mack in September 2007 here]. In 1978, Roland Mack, together with other pioneers of the German leisure industry, founded the VDFU (Verband Deutscher Freizeitparks und -Unternehmen e.V.) as an important interest group on an economic and political level. More than ten years ago, Mack became the first German to hold the position of President of the global industry association IAAPA. Like his father Franz, Walt Disney and other important industry pioneers, Roland Mack is a member of the IAAPA Hall of Fame.
The Mack family's "empire" with the Europa-Park, its numerous attractions, associated hotels, the in-house coaster manufacturer Mack-Rides (which realizes projects worldwide) and the other highly specialized companies of the Mack Group are rooted in the entrepreneurial spirit of Roland Mack and the Mack family, who run one of the largest family-owned enterprises in Germany. With the Buzz Price Award, Roland Mack has now received another distinction for his outstanding work and commitment in the global leisure and attractions industry. Congratulations! (eap)