SEVEN and Hasbro Join Forces to Bring World's First PLAY-DOH Brand Experience Destinations to KSA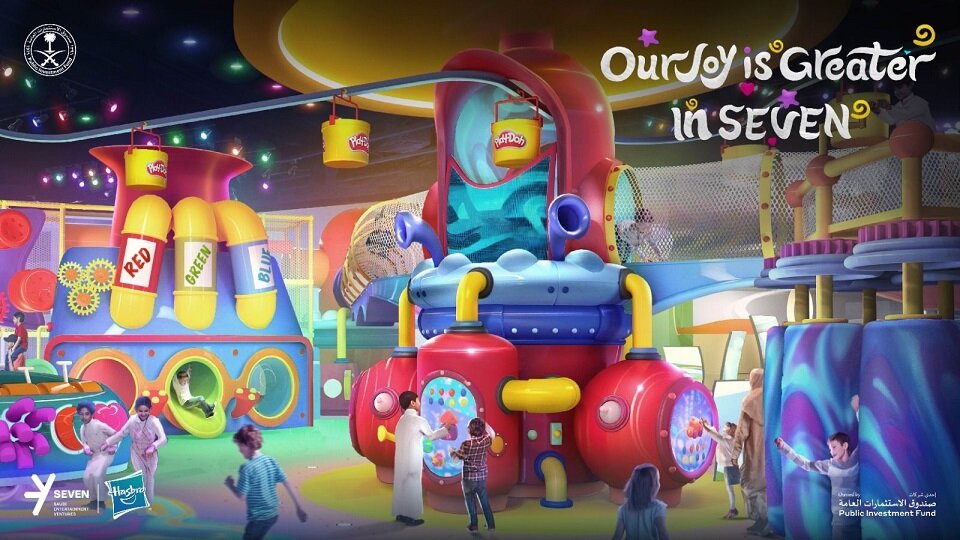 SEVEN (Saudi Entertainment Ventures), the subsidiary of the state-owned Public Investment Fund established in 2018, and U.S. toy manufacturer Hasbro have entered into a licensed agreement to create multiple experience worlds around the "PLAY-DOH" brand in the Kingdom. SEVEN will be responsible for the development and operation of the world's first PLAY-DOH entertainment centers. The new leisure facilities will be implemented over the next decade at eight locations of the 21 entertainment centers in the KSA already announced by SEVEN.
Guests can look forward to discovering multi-level playscapes, creative stations and sensory activity areas to fully immerse themselves in the joy of playing with the popular modeling clay. In addition, the entertainment centers will also feature a café area for parents and a special party and event space where, for example, children's birthday parties can be celebrated. For the development of the PLAY-DOH brand experience centers, SEVEN has brought on board the design and production agency Thinkwell Group.
Abdullah Al Dawood, Chairman, SEVEN, commented: "Our strategic partnership with Hasbro serves to bring the best-in-class entertainment attractions to the people of Saudi Arabia. Our PLAY-DOH themed entertainment centres will inspire the creative minds and imaginations of children across the Kingdom. Children will be able to learn while having fun at our PLAY-DOH centres located at SEVEN entertainment destinations. We are delighted to once again be pioneering the Kingdom's entertainment landscape with the first ever PLAY-DOH themed entertainment centres as we continue to enhance the quality of life for the people of Saudi Arabia."
Matt Proulx, VP, Location Based Entertainment at Hasbro, Inc. said: "We are thrilled to be working alongside SEVEN to bring these truly unique experiences to PLAY-DOH fans in the Kingdom. Championed by our Blueprint 2.0 strategy, Hasbro is creating the best branded entertainment experiences. We're excited for people to visit these immersive attractions in the future that we're sure will delight new and lifelong fans and families of the brands for many years to come." (eap)