UK: Blackpool Pleasure Beach's ICON Launch Coaster to Feature Unique Spinning Element as of 2022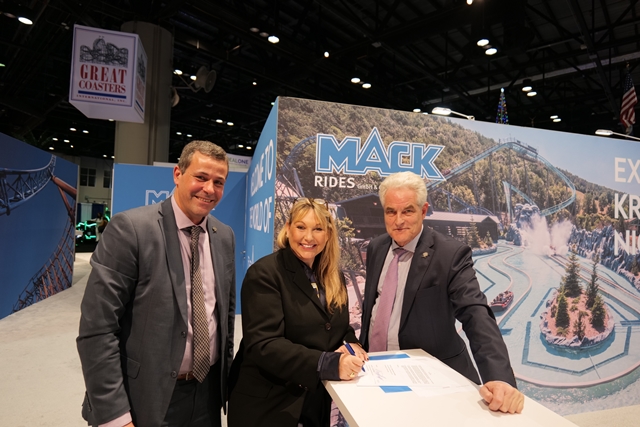 The "ICON" double launch coaster opened at England's Blackpool Pleasure Beach (BPB) in 2018 (see EAP 3/2018) and still the only coaster of its kind in the UK, will be getting a spectacular new feature for the coming season: starting next spring, passengers on the two rear seats of the roller coaster supplied by Mack Rides will be able to spin freely throughout the ride thanks to a special spinning configuration. This unique element, called "ENSŌ" in the park, will be implemented for the first time in Europe. To sign the contract, BPB Managing Director Amanda Thompson OBE (m.) met today in Orlando with Christian von Elverfeldt, CEO of Mack Rides, and Mack Rides Chief Officer Sales & Marketing, Thorsten Koebele (l.).
"We are delighted to once again be working with Mack Rides. We have a longstanding relationship with the Mack family and this continues the strong links between our two families. ENSŌ promises to be a thrilling addition to ICON and I can't wait to see everyone get twisted next year", says Amanda Thompson.
The term ENSŌ is a sacred symbol in Zen Buddhism meaning circle or circle of togetherness. Traditionally drawn with just one brush stroke as a meditative exercise, the symbol is meant to free the mind – just as ENSŌ is meant to do on a ride on the coaster. (eap)