USA: Falcon's Beyond & Oceaneering Entertainment Extend Cooperation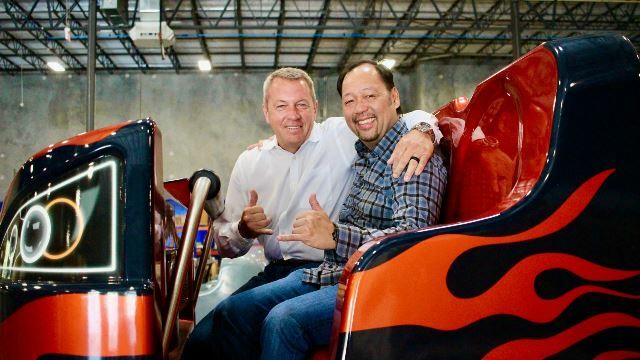 As Falcon's Beyond Global™ and Oceaneering Entertainment Systems (OES) recently announced, the two Orlando-based companies will further strengthen their collaboration in the future. Falcon's will use OES ride systems such as dark rides, Suspended Theatres® and CircuMotion® theatres in all venues, which are currently under development. A dark ride and Suspended Theatre are already planned for the new Katmandu™ Park in Punta Cana (Dominican republic), which celebrated its groundbreaking on 14 July.
"We are beyond excited to bring our old friends at OES on board as our ride systems provider worldwide. They share our core values and are well known for the highest standards of quality, safety, and smooth engineering. With full collaboration between our teams, we're already creating cutting-edge experiences. The Falcon's Beyond parks – with innovative OES-built rides – will be reliably mind-blowing," said Cecil Magpuri (photo right), Chief Executive Officer of Falcon's Beyond Global.
"We've had a fantastic creative relationship with the Falcon's team going back to 2002, and together we've developed extraordinary attractions at leading parks. We're thrilled by the Falcon's Beyond vision for 'Big-Experience, Small-Footprint' parks in leading resort destinations around the globe, and we're truly honored to help our good friends amaze and delight audiences with great storytelling – and engineering," added Dave Mauck (photo left), Vice President and General manager at Oceaneering International. (eap)